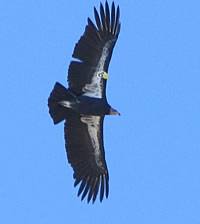 TOWHEE.NET can be your personalized birding service for the Northwestern United States, from Central California to Seattle. There are several rich birdingareas that I regularly visit with birding customers: Monterey Bay Area, San Francisco, Pt. Reyes Peninsula, Sacramento River Valley, Malheur National Wildlife Refuge, Cascade Mountains, Willamette Valley, Portland and Sauvie Island, Oregon Coast, Puget Sound, Olympic Peninsula, Nisqually National Wildlife Refuge.
Here's a photo I took on a recent trip that included a visit to Big Sur where two California Condors flew right over our roadside perch.
NEW BOOK
I have written a book on birding along the freeways between San Francisco and Seattle. It is available from Living Gold Press. Click here for link to their website.
PERSONALIZED TRIPS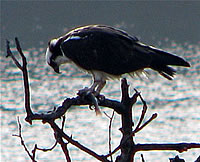 I organize trips for individuals with a half day for birding, or small groups with a long list of target birds and days to spend afield. You can see testimonials from past visiting birders, including several from Europe. If you need advice on where to look for Pacific Coast birds, TOWHEE.NET will give you the answers. If you would like a written itinerary for any particular time of year, I can supply this. If you want a personal tour guide, whether for a few hours or for several days, I do that too! See the Our Services section. From Wrentit to White-headed Woodpecker, from Harlequin Duck to Hermit Warbler, there are wonderful birds unique to the western United States, and I can help you see them.
OVERSEAS TRIPS

In addition to personal trips I am a partner of Partnership for International Birding (PIB). I lead trips for PIB in the western U.S. I have also hosted PIB trips to Latin America and Africa. Click here for the PIB website.
SOUTHERN OREGON

I am based in Ashland, Oregon, home of the Oregon Shakespeare Festival and center of a rich birding area. In spring, 2012, I had the pleasure of birding with Sandy Komito, current record-holder for most birds seen in a Big Year in the ABA area. The venerable expert birder, Mr. Komito, came to Ashland from Florida to pick up some mountain birds for this camera life-list. We helped him find six new birds to photograph including Vaux's Swift, Lewis's Woodpecker, Pacific-slope Flycatcher, Western Wood-pewee and Calliope Hummingbird. You may come to Ashland for the theatre, but stay for the birding.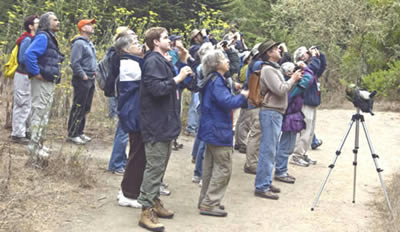 OUR SERVICES

Free advice on where and when to look for your target birds in southwestern Oregon and northern California.
Detailed, written birding itineraries designed to get you the best birds of the season in the time you have available.
Personal tour guiding - for a few hours or full days.
Visitors to the Ashland, Oregon, area or northern California can get help tracking down any recently spotted rarities.
Your style determines the tour. Want 100 species per day? Prefer to spend 45 minutes watching adult Bushtits come and go from their soft, sack nest?
More information than just the name of the bird. How does it live? What does it sound like? What does it eat? Is it common or endangered, expanding its range or disappearing? What role does in play in the habitat?
Personalized training in birding-by-ear and how to read habitat.
If you are a birder visiting Europe, we can help you find the great birds there. Even if you only have two hours in central Paris!
Birders with family? We are working with Nestlingtours to bring families to the bird-rich areas of Northern California
California Birds

Local knowledge is what you need to get the birds you seek. Some great California birds are only seasonal. Spring is best for Lawrence's Goldfinch, Cassin's Vireo or Lazuli Bunting. The Allen's Hummingbird is gone by mid-August. So are Pigeon Guillemots. In Northern California you expect the Heermann's Gulls to show up in July, along with the Elegant Terns.
Would you like to see American White Pelicans and the sky-diving Brown Pelicans in a single day? Want to spot a Yellow-billed Magpie, never been seen beyond California? How about a few of those great Pacific Coast specialties— Chestnut-backed Chickadee, Black Phoebe, Townsend's Warbler, Varied Thrush, Golden-crowned Sparrow, California Thrasher, Nuttall's Woodpecker? And North America's only colonially nesting woodpecker, the Acorn Woodpecker? We can make that happen.

Want some pelagic birding? Hanker after a Black-footed Albatross, Sabine's Gull or Cassin's Auklet? TOWHEE.NET is named for a land bird, but we've got a taste for saltwater, too.
Yes, San Francisco has its autumn hawk watch. From the Marin Headlands you scan the skies as the raptors migrate south and some even cross the Golden Gate into the city spread out before you.

Hardy enough for a winter trip? It doesn't get cold, but that's when the rains come. And that's when we recommend you fill out your list of North American ducks. Cinnamon Teal, Barrow's Goldeneye, three scoter species, two scaups and a pond full of Ring-necked Ducks. On a good day, you should see at least twenty-two duck species. Sound like it's worth a little rain? If you want bigger birds, we can go after Snow and Ross's Geese and the wintering Sandhill Cranes.

Want an identification challenge? Come to Northern California in the fall and we'll see if you can get all nine regular gull species, and then maybe add a rarity. Or try us in May for six species of Hirundine, all local nesters. Name one other major city where you'll find Brown Creeper, Black Oystercatcher, Brandt's Cormorant, Pygmy Nuthatch, Common Raven and Hooded Oriole nesting within a few yards of one another. That's just a nice way to start a rich day of birding in San Francisco.
We can help you plan that unforgettable trip, and we can provide personal guide service as well. Send an email to help@towhee.net.