BIRDING BLOG
Well, maybe not so much a blog as a collection of San Francisco birders' accounts of particular occasions. They appear in reverse date order. See end of page for links to older entries.
---
Sunday 29th October - Pt. Reyes National Seashore
Notes: We did Olema Marsh, Bear valley and Five Brooks, nothing coastal. Tricoloreds were at Bear Valley. Varied Thrush were at Five Brooks as were the GC Sparrows. Cold, foggy morning.
Number of species: 61
Canada Goose 16
Wood Duck 2
Gadwall 4
American Wigeon 20
Mallard 15
Cinnamon Teal 8
Ring-necked Duck 5
Pied-billed Grebe 4
Great Egret 1
Snowy Egret 5
Turkey Vulture 56
White-tailed Kite 1
Cooper's Hawk 1
Red-shouldered Hawk 4
Red-tailed Hawk 6
American Kestrel 1
Merlin 1
Sora 1
Common Moorhen 1
American Coot 24
Killdeer 14
Greater Yellowlegs 1
Dunlin 1
Short-billed Dowitcher 2
Western Gull 4
Band-tailed Pigeon 22
Anna's Hummingbird 12
Kingfisher 1
Acorn Woodpecker 10
Nuttall's Woodpecker 1
Northern Flicker 2
Black Phoebe 5
Say's Phoebe 1
Hutton's Vireo 1
Steller's Jay 4
Western Scrub-Jay 8
American Crow 30
Common Raven 23
Chestnut-backed Chickadee 6
Bushtit 10
Marsh Wren 2
Ruby-crowned Kinglet 15
American Robin 8
Varied Thrush 2
Wrentit 17
Cedar Waxwing 30
Yellow-rumped Warbler 3
Townsend's Warbler 6
Spotted Towhee 2
California Towhee 1
Fox Sparrow 1
Song Sparrow 4
White-crowned Sparrow 5
Golden-crowned Sparrow 18
Dark-eyed Junco 7
Red-winged Blackbird 30
Tricolored Blackbird 24
Brewer's Blackbird 65
House Finch 1
Pine Siskin 20
American Goldfinch 2
---
Sunday 22nd October - Pt. Reyes National Seashore
Notes: Five Mule Deer
Number of species: 21
California Quail 15
Great Egret 1
Turkey Vulture 35
Cooper's Hawk 1
Red-shouldered Hawk 1
Killdeer 2
Greater Yellowlegs 1
Anna's Hummingbird 1
Northern Flicker 2
Black Phoebe 2
Say's Phoebe 1
Western Scrub-Jay 3
Common Raven 12
Marsh Wren 1
Western Bluebird 5
Yellow-rumped Warbler 16
Spotted Towhee 1
California Towhee 2
Fox Sparrow 1
White-crowned Sparrow 10
Golden-crowned Sparrow 12
---
Wednesday 18th October - Golden Gate Park
Number of species: 27
American Wigeon 1
Mallard 370
Green-winged Teal 1
Ruddy Duck 1
Pied-billed Grebe 15
Great Egret 2
Black-crowned Night-Heron 1
American Coot 44
California Gull 1
Herring Gull 1
Western Gull 360
Anna's Hummingbird 2
Belted Kingfisher 1
Black Phoebe 5
Steller's Jay 1
Common Raven 47
Winter Wren 1
Ruby-crowned Kinglet 2
Hermit Thrush 1
American Robin 23
Cedar Waxwing 36
California Towhee 1
Fox Sparrow 4
Song Sparrow 5
White-crowned Sparrow 14
Golden-crowned Sparrow 2
House Finch 2
---
Monday 16th October - Lake Merced Area
Notes: Missed Least Bittern, Phil. Vireo, Chestnut-sided and Hermit Warblers seen in the area.
Number of species: 38
Mallard 48
Ring-necked Duck 6
Lesser Scaup 1
Ruddy Duck 25
Ring-necked Pheasant 3
Pied-billed Grebe 7
Eared Grebe 1
Clark's Grebe 3
Double-crested Cormorant 11
Black-crowned Night-Heron 3
Red-shouldered Hawk 2
Red-tailed Hawk 1
American Coot 40
California Gull 45
Western Gull 220
Rock Pigeon 75
Anna's Hummingbird 5
Black Phoebe 3
Western Scrub-Jay 2
American Crow 2
Common Raven 9
Chestnut-backed Chickadee 6
Ruby-crowned Kinglet 1
American Robin 25
European Starling 14
Orange-crowned Warbler 1
Yellow Warbler 1
Yellow-rumped Warbler 6
Townsend's Warbler 4
Common Yellowthroat 1
Fox Sparrow 4
Song Sparrow 9
White-crowned Sparrow 18
Golden-crowned Sparrow 3
Red-winged Blackbird 30
Brewer's Blackbird 65
Brown-headed Cowbird 1
House Finch 1
--Harry Fuller
---
Sunday 15th October - Golden Gate Park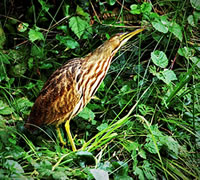 Notes: Great views of the American Bittern at North Lake. Red-shouldered Hawks in bright new plumage.
Number of species: 34
Mallard 15
Pied-billed Grebe 3
Double-crested Cormorant 1
American Bittern 1
Red-shouldered Hawk 2
Red-tailed Hawk 1
Peregrine Falcon 1
American Coot 9
Western Gull 45
Anna's Hummingbird 7
Downy Woodpecker 2
Black Phoebe 3
Steller's Jay 2
Western Scrub-Jay 4
Common Raven 6
Chestnut-backed Chickadee 10
Bushtit 45
Pygmy Nuthatch 6
Brown Creeper 1
Bewick's Wren 1
Golden-crowned Kinglet 2
Ruby-crowned Kinglet 18
Hermit Thrush 2
American Robin 20
European Starling 8
Yellow-rumped Warbler 7
Black-throated Gray Warbler 1
Townsend's Warbler 12
Spotted Towhee 1
Fox Sparrow 5
White-crowned Sparrow 25
Golden-crowned Sparrow 8
Dark-eyed Junco 6
House Finch 1
--Harry Fuller
---
Saturday October 14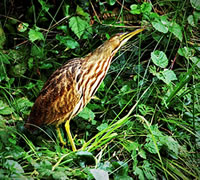 Hi, SFBirders! I had a wonderful weekend with the Bittern! On Saturday, I was one of many people who walked eastern GGP with Harry Fuller. After the main walk, he invited anyone who had time to join in the hunt for the North Lake Bittern, which he had missed 12 times! 13th time was the charm. The bird was on the east side of the lake, south of the little beach, out in the open, and working southwards. I know there were other people there, including Al DeMartini, but I can't remember who was there when, so I can't credit anyone for spotting the bird (sorry).
I went to visit some friends in Cole Valley, and asked them on the spur of the moment if they wanted to see the Bittern. Yes! This time was harder. We parked at the north end of the lake and went down the west side, looking east. Then we went up the east side, looking west. We met Matt Zlatunich and a woman with a scope or telephoto camera. Matt had seen the bird as he reported later, and also a Tropical Kingbird.
As we were resting at the picnic table at the very north end of the lake, a man wearing binoculars came up to us and after inquiring if we were looking for the American Bittern, directed us up to approximately the same spot where I had seen it earlier - BUT! it was on our shore, about 10 feet away. The woman with the scope/camera was also there, and said, pointing up, "And there's the Tropical Kingbird." Wow! It was right above the Bittern!
Binoculars were passed around, scopes were shared, innocent bystanders were dragged to their feet and scopes shoved in their faces, people flowed through, it was a real "each one teach one". I wonder how long it all lasted. About 4 p.m. my friends and I went off in a daze to their original destination, the De Young Museum (another lifer for me).
Today, I took my husband Jeff, who had to work on Saturday, Bittern hunting. Before we went to North Lake, we visited the concrete bridge at Lake Merced, where we met a wonderful birder named Bess, and where we worried about an obviously abandoned white rabbit; and Sutro Heights, and whiffed on any and everything. Once again, I entered the park from Fulton at 43rd and parked by the picnic table. We got out of the car and Jeff said "There he is!" Bird was right out in the open on the eastern shore, fluffing his feathers, not 25 feet from us. I whipped out the scope and we were transfixed for a long time. When I pulled my eyes from the scope, I found we had been joined by another birder, Roland (?), who lives near Lake Merced. Roland is worried about the relative unsecretiveness (not a word) of the Bittern, esp in re what happened to the Great Blue Heron on Sunday.
Soon we were joined by Linda Swanson, who has been stalking the bird for several days. Someone else dropped by. The bird made his way south. Roland left, after saying he would try to trap the rabbit and get in touch with the House Rabbit Society, or SPCA. Linda decided to move to the beach to try for a different view, hoping she wouldn't flush him. The minute she left us, the Bittern hopped onto the beach and walked, quite quickly, south, back into the reeds, while the steady wind ruffled all his neck feathers.
Jeff and I moved around the west side of the lake to the area where I had seen the Bittern and Kingbird on Saturday. From there, we couldn't see the eastern shore, and the Kingbird was not present, so we moved farther south to where I had seen it first on Saturday. Another birder, a young mother, asked if we knew where the Bittern was, and we showed it to here in the scope; because it was cranked up to 75, the bird filled the whole image. At first she didn't see it, and then Jeff invited her to look again. "OH!" she yelped. "I didn't expect it to be so big!" She left happy. Linda, coming around from the south, and a lady she knew from a birding class, met at our location, and again everyone looked through binoculars and the scope. It was a party!
We finally wrapped it up about 4 pm, just as another birder was coming down from the north; but he knew where the bird was, so broke down the scope and left, happy. One and a half hours on one bird.
The real point to this whole story is the birders. Jeff and I have been birding for just over two years, and been brought out of our "people are no damn good" phase by all the wonderful people who share their knowledge, their locations, their birds, their stories of birds, their stories of birders, and I'm sorry if I left out any names, I'm still a bit shy of introducing myself.
One final note. One person this weekend was startled or offended when I spoke of the Bittern as "he". I asked what this person preferred, and the answer was "It". When I mentioned this to Jeff, he said, "Well it has a much higher chance of ever being a he than an it".
So great big thanks to the whole community of birders. I hope this winds up on Scialia.com, so everyone can be thanked.
GOOD BIRDING!!!!!!
Laurie Graham
Jeff Fairclough
South San Francisco
---
Saturday October 7 - Sutro Heights / Baths / Land's End, San Francisco
Notes: Scrub-jays imitating Red-shouldered Hawks. First flicker and RC Kinglet seen this season at Sutro. Steller's Jay lingers. Missed the continuing Blackburnian Warbler seen yesterday.
Number of species: 28
Red-tailed Hawk 1
Heermann's Gull 167
Western Gull 250
Rock Pigeon 2
Mourning Dove 2
Downy Woodpecker 2
Northern Flicker 1
Black Phoebe 1
Steller's Jay 1
Western Scrub-Jay 1
American Crow 1
Common Raven 54
Chestnut-backed Chickadee 3
Bushtit 48
Pygmy Nuthatch 7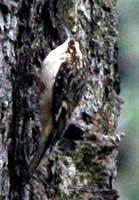 Brown Creeper 1
Ruby-crowned Kinglet 1
American Robin 6
European Starling 5
Yellow-rumped Warbler 1
Black-throated Gray Warbler 1
Townsend's Warbler 8
California Towhee 2
White-crowned Sparrow 15
Golden-crowned Sparrow 3
Dark-eyed Junco 2
Lesser Goldfinch 3
House Sparrow 1
--Harry Fuller
---
Long-term colony-based research (Farallones, Año Nuevo, Alcatraz Islands)
Russ Bradley, Julie Thayer, William Sydeman, Pete Warzybok
PRBO Conservation Science
Planktivorous Cassin's Auklet (Ptychoramphus aleuticus) populations were reduced and experienced almost complete breeding failure for the second year in a row, presumably due to delayed upwelling and resulting poor prey availability during key periods. Ashy Storm-petrel (Oceanodromo homochroa) was mist-netted in high numbers on the Farallones but productivity was near the long-term mean. This species breeds only on the Farallones in central CA, but several Ashy and Fork-tailed Storm-petrels (O. furcata) were observed at Año Nuevo this year. A Black Storm Petrel (O. melania) was also captured on the Farallones in April. Piscivorous species had varying success. Pelagic Cormorant (Phalacrocorax pelagicus) breeding populations were reduced and experienced poor to almost complete failure. Pigeon Guillemot (Cepphus columba), Common Murre (Uria aalge) and Rhinoceros Auklet (Cerorhinca monocerata) fared poorly with productivity less than the long-term means. The murre population grew by 15% on the Farallones, where estimated populations now exceed 210,000, while guillemot populations were lower than in previous years (Alcatraz, Año Nuevo, Farallones). Brandt's Cormorant (P. penicillatus) populations continued to increase as in the past several years. Brandt's breeding success in the past two years has been similar and higher than the short-term mean on Año Nuevo and the Farallon Islands, but lower on Alcatraz. This is in contrast with the late 1990s to early 2000s when estuarine-breeding cormorants on Alcatraz performed better than at the coastal and pelagic colonies, presumably linked to different prey species and availability. Diet of piscivorous seabirds and predatory fish on the shelf revealed mainly anchovy in 2006. Juvenile rockfish are an important forage species for predators in this region but few to no rockfish were present in diets this year.
---
Previous blog entries:
September 2006
June/July/August 2006